Image
Image
Image
Image
Hungry for Adventure
 Join Guest Blogger Greg Elwell on a Mouthwatering Hamburger Tour across Chickasaw Country
There are A LOT of delicious hamburger joints in Chickasaw Country. So many, we asked I Ate Oklahoma blogger and Oklahoma City resident Greg Elwell if you could use his expertise to take us on a burger trail in south-central Oklahoma. Check out the mouth-watering burgers he found ahead of National Hamburger Day (May 28). 
Whip Dip in Ada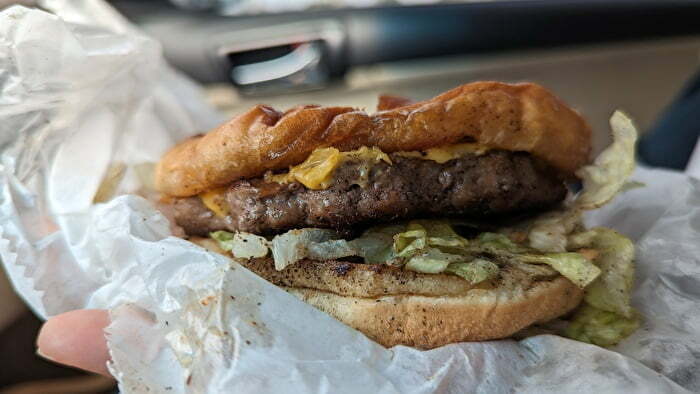 The first stop on this culinary odyssey was Ada, Oklahoma and the blink-and-you'll-miss-it drive-in called Whip Dip. While the name certainly evokes a bevy of creamy treats, the main draw at Whip Dip is the pepper burgers. Not pepper jack. Not pepperoni. Black pepper.
When I asked what that entailed, the young lady taking orders said, "We salt and pepper all of our burgers." And you might say to yourself, "Don't most burger restaurants season their burgers?" And you would be right.
But Whip Dip goes hard in the paint when it comes to black pepper. And I am pleased to tell you that not-so-secret ingredient makes for a spicy savory meaty treat. Getting a regular cheeseburger as well as a pepperjack burger (because why not go double pepper?) it became obvious that the pepper was on not just the burger, but the bun.
Obviously, they are happy to season the burger however you choose, but I highly recommend letting them run wild with the pepper. The result is a classic drive-in-style burger with enough gooey greasiness to turn the paper it's wrapped in semi-translucent.
Of note, Whip Dip is a cash-only establishment, but the prices are low enough that you might even get away with using the change in your car.
As a long-time burger aficionado, I know a tasty side dish is not only welcome but necessary. While the bacon ranch cheese fries are a popular choice, I would have liked to see a little more color on the fries, to give them the strength to hold up to the generous helping of melted cheese, bacon, and sauce on top.
Even better are the Texas Toothpicks. You can get them as battered fried onions, battered fried jalapenos, or a mix of both. Get the mix. Perfectly light and crunchy with a lovely greasiness to them. Oh, and order a fountain drink while you're there. As the cashier told us, the soda machine is a classic, which means it makes a stronger, more syrupy soda.
Dairy Lou in Ada
Just a brief hop and a skip away, diners will find Dairy Lou Drive Inn. Though it looks like a drive-in, at Dairy Lou customers must exit their vehicles to order at the window and then wait for their buzzer to tell them the food is ready.
This is another excellent cheeseburger, and while there are many variations available, there's nothing wrong with starting with the base model. The burgers at Dairy Lou are thicker than at Whip Dip and a little more expensive, but still worth every penny.
The loosely packed beef in the patties is perfect for a cheeseburger, as the gaps in the meat let bits of cheese melt into the grooves and mix with the beefy juice for a combination that will drive your taste buds up and around the bend.
Hamburger Inn in Ardmore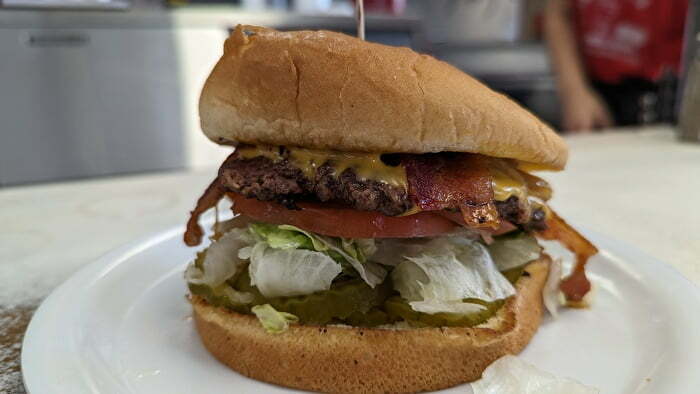 The next stop on the burger hunt is Ardmore, longtime home of a longtime favorite that is swiftly returning to its glory days: Hamburger Inn.
Some restaurants are notable for how long they have been open and not much else. Peaks and valleys in quality over the years are sadly the norm. But Hamburger Inn, luckily for you and me, is at another peak thanks to the folks who have been running it for the last year.
As a signifier of the return to quality, the restaurant dropped the pre-made frozen onion rings from the menu and switched to thick-cut hand-battered onion rings that any connoisseur will want to sample for themselves.
The burgers are split into two groups. The classic burgers are a little less expensive, a little smaller, and a little less complicated, but that simplicity is part of the charm. In the postage stamp-sized kitchen at Hamburger Inn, the cooks are quick to slam down a mound of onions on the griddle, followed by a handmade burger patty. Though not the same as an El Reno onion burger, in which the onions are incorporated into the meat while cooking, this version includes a pile of sweet, soft-fried onions sitting gingerly atop the beef. The condiments are simple, so if you want something other than ketchup and mayonnaise, you need to speak up.
A little further down the menu are the specialty burgers, which are larger and more complex, and a little more expensive. From chili and jalapenos to peanut butter and jelly, the combinations go from mild to wild. The simple bacon cheddar burger, however, is a best seller for a reason. The bacon is cooked perfectly, thin and crisp with a little bend. The cheddar melts against the hamburger, which forms a barricade between the hot and cold ingredients. Underneath are shredded lettuce and tomato and pickle. The one downside to the burgers here is the buns, which strain to contain generous amounts of beef, onions, and cheese.
While getting more meat as a side for a burger feels odd, one cannot ignore the draw of Hamburger Inn's classic, no-beans chili. Be sure to get it with a sprinkling of cheese and a pile of chopped white onion. The cold, crisp onion is a perfect counterpoint to the tomato and cumin-scented chili. I certainly wouldn't fault anyone for going a step further and getting a Frito chili pie as their side.
Fat Bully's by the Lake in Sulphur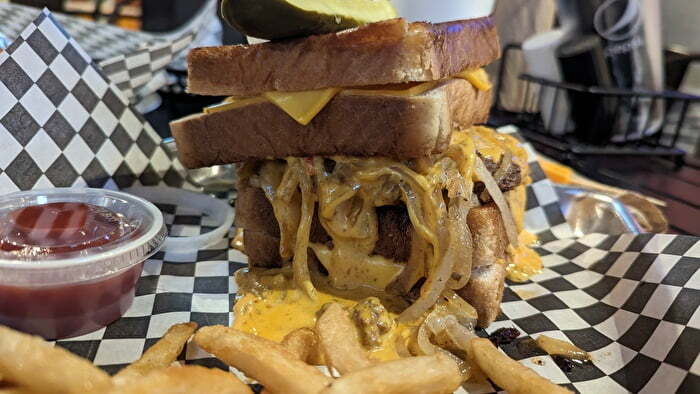 The final stop on the Burger Hunt brought us to Sulphur, which is way more than just its downtown area. Sulphur stretches up and around the Lake of the Arbuckles, which made getting to Fat Bully's by the Lake more of an adventure than we first reckoned.
But once you see the restaurant/bar/biker gathering spot/big freaking patio, you'll understand that it was built with explorers in mind.
Outside, the restaurant seems huge, but most of the seating is on the patio, making it an ideal spot to sit in the shade with a bucket of beers during the spring, summer, and fall months in Oklahoma. On a cool, rainy day, like the one we visited on, most of the action is indoors in a tight dining room. We were lucky to snag a table in the middle of the room—all the other tables, much closer to the walls, were already occupied.
Bikers are not only welcome at Fat Bully's, but they're also the inspiration. Check out the list of burgers and other sandwiches on the menu and you'll see that the gearheads are running the asylum.
One other thing of note: if you're on a diet, this is going to be a minefield. Among the massive loaded (sometimes overloaded) half-pound burgers are a smattering of lighter options. The V-Twin is a quarter-pound burger, which isn't exactly depriving yourself, and a veggie burger and a few meaty salads to round things out. That's not a reason to avoid Fat Bully's so much as it's a reason to take it easy at breakfast and lunch if you're planning to go for dinner.
As appetizers go, it's hard not to get the fried cheese curds. There's something glorious about these nuggets of chewy, melty cheese cocooned away inside a skin of salty, crispy batter. And you can feel free to let your Okie ranch freak flag fly here. Dip away, you ranch fiends. Dip away.
We tried the Vroom-Shroom, the Fat Bully version of a mushroom and Swiss burger. The mushrooms are not out of a can or even the perfectly acceptable, if unexciting, button mushrooms we see in every grocery store. These are thick-cut portabella slices that have seen some time on the griddle, which softens them and releases some of their savory, umami juices. The Swiss is melted on top, gluing the entire burger together inside the bun.
The focus here is on the interplay of the meat, mushroom, and cheese—right where it belongs. Add the salad toppings at your own discretion.
On the Team Insanity side of the menu are some bonkers choices. There's one with four kinds of smoked meats on top of the burger and doused with barbecue sauce. One has fried onions, fried jalapenos, spicy ranch, and spicy pimento cheese.
Then there's the Baffle Burger and folks, I am baffled. For the life of me, I don't know how this is supposed to be eaten in any way like a burger. There's a half-pound patty. There's pepper jack cheese. There's Fat Bully burger sauce. And there's sauteed onions and an entire ladle of queso gluing everything together.
The bun is not a bun. It's two grilled cheese sandwiches. Top to bottom it goes:
Grilled cheese sandwich
Fat Bully Sauce
Queso
Sauteed onions
Pepper jack cheese
Half-pound burger patty
Grilled cheese sandwich
I ate it with a knife and fork because I don't know how else I could have gotten it from the plate to my munching cave without making the kind of mess that would result in me and the chair I was in being dragged outside and hosed down.
The flavor was, as you might expect, very cheesy. The queso was the main driver, making the pepper jack kind of superfluous, and it completely enveloped the burger.
This is a challenging burger. If you love cheese, cheese, and more cheese, this is for you. If you like a burger you can pick up with your hands and doesn't require a bib, the Metric Burger might be more your speed.
Other notable favorites in Chickasaw Country include Paw Paw's Hamburgers in Chickasha, Folger's Drive-In in Ada and Burgerland in Davis.
Let us know what mouthwatering burgers you find in Chickasaw Country by tagging us on social media and using the hashtag #VisitChickasaw.