Image
Image
Image
Image
Dinner with a View: Patio Dining
Who doesn't love dinner with a view?
We have compiled a list of a few of our favorite restaurant patios in Chickasaw Country, and we think you will love them too! See the full list below:
Rock Island Grill - Chickasha
Rock Island Grill is locally-owned and operated in Chickasha, in the northwestern corner of Chickasaw Country. The Grill serves burgers, steaks, seafood, kids' meal and Mexican food. But what truly sets Rock Island apart is the outside patio and the raised deck lounge. This two-story structure is adjacent to their backyard stage which hosts live music most Saturday nights, weather permitting.
Libby's Cafe - Goldsby
The sports-themed Libby's Café is the perfect place to unwind at the end of a long day. Libby's features an upstairs patio dining area with live music on Saturday nights and a dance floor. Their claim is to serve "gut-busting good American comfort food with red dirt music and a down-home feel." And don't forget to order cobbler!
The Grille Restaurant and Bar - Pauls Valley
The Grille Restaurant and Bar has a great patio featuring 5 televisions, a 16-seat center bar and games such as checkers and Jenga. Their menu offers a variety of options including their Okie cheese steak, PB&J Burger, a zesty bacon-wrapped meatloaf and chicken fried ribeye. Make sure to ask about their drink specials and dessert of the month!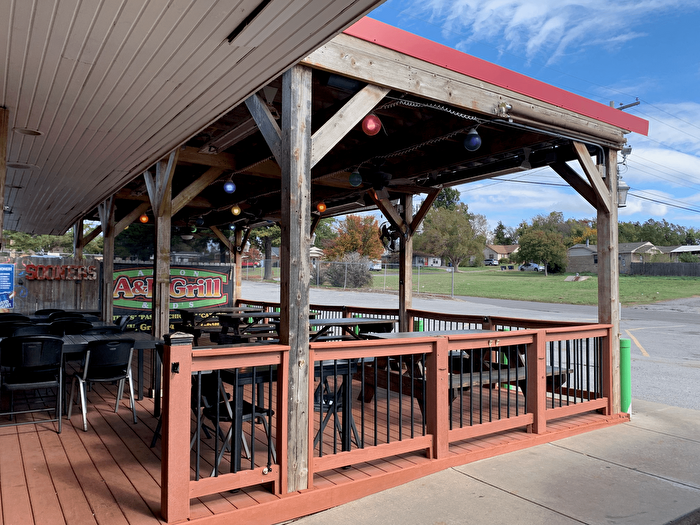 A&E Grill - Chickasha
This rock-n-roll-themed restaurant serves up tasty American favorites made fresh to order. With a great family-friendly atmosphere, A&E Grill offers outdoor seating on their covered patio. The seating includes picnic tables and tables and chairs with misters for those hot Oklahoma days.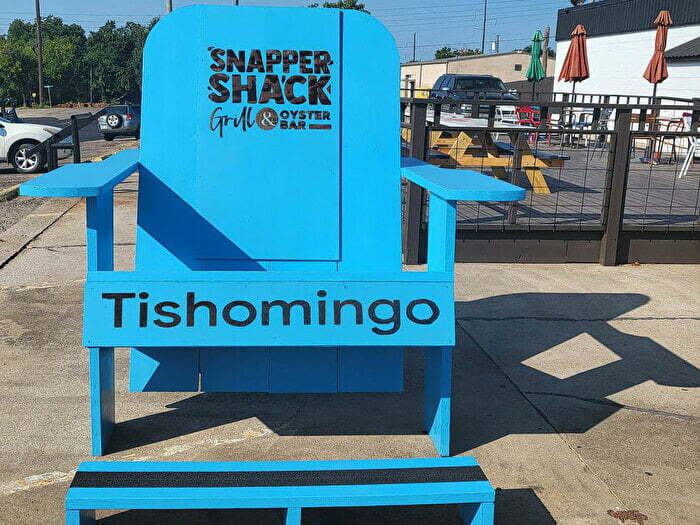 Snapper Shack Oyster Bar & Grill - Tishomingo
Conveniently located on West Main Street in Tishomingo, the Snapper Shack has all your favorite seafood dishes, grilled, fried and boiled. Grab your lunch or dinner and head to the outside patio complete with umbrella-covered tables and bright blue chairs. And after you eat, make sure to grab a photo in the big blue beach chair and tag #VisitChickasaw for a chance to be featured on our social channels!
Cafe Alley - Ardmore
Café Alley, located in Ardmore, is chef-owned and chef-operated serving fresh, delicious food. With specialties like smoked salmon, quiche of the day, the Southern favorite burger or their made-from-scratch desserts, it is no wonder it's a local favorite. Their covered patio offers oscillating fans and is pet friendly.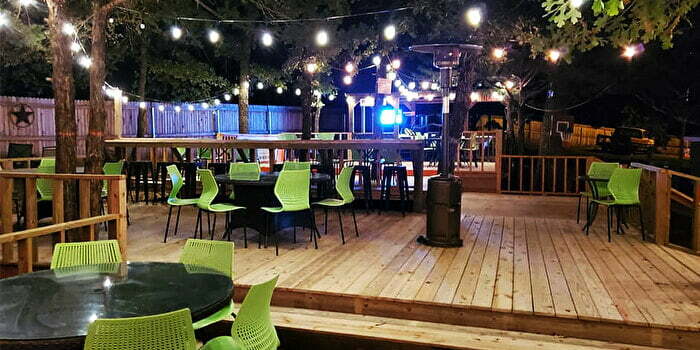 Fat Bully's By the Lake - Sulphur
Located a short distance from Lake of the Arbuckles and best known for the three B's, Fat Bully's by the Lake has burgers, beers and bikes. The perfect destination for an afternoon ride, the Fat Bully's patio welcomes diners with food, drink and even sometimes live music.
Share your patio dining photos with us on social media by adding #VisitChickasaw to your posts for a chance to be featured on our social media channels. Call ahead to make sure your dining destination is open and enjoy the tastes of Chickasaw Country on our patios!