Image
Image
Image
Image
14 Best Swimming Holes in Chickasaw Country
It's officially summertime in Oklahoma and the heat is here to stay. Beat the temptation to stay cooped up inside by getting out and exploring some of the most incredible swimming holes in the southern region of Oklahoma.
These local swimming spots are a must-see whether you're road-tripping or day-tripping. We've arranged the swimming holes by region so you can visit multiple locations in one day. If you're looking for things to do in Oklahoma this summer, click on the name of each destination for nearby recommendations from restaurants and dining to shopping and attractions.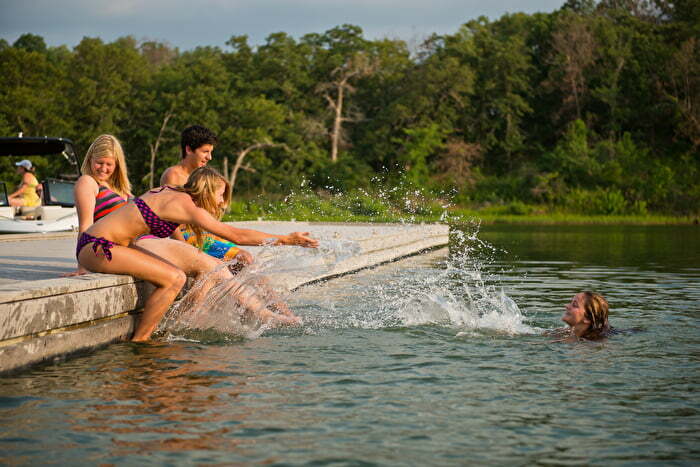 The complete guide to the coolest outdoor swimming in south-central Oklahoma.
1. Clear Creek Lake – Duncan, OK | One of the four "Duncan Area Lakes," Clear Creek has 11 miles of shoreline, over 100 RV hookups and two boat ramps for summer fun. Pro-tip: Stop by Tastee's for a burger and fried pickles to eat by the lake for the full Duncan experience.
2. Duncan Lake – Duncan, OK | With four miles of shoreline and 550 surface acres of water, the aptly named Duncan Lake is perfect for all kinds of family-friendly summer fun. While you're in the area, check out the patio scene at Kochendorfer Brewing Co. for a world-class beer with an Oklahoman flair.
3. Lake Fuqua – Duncan, OK | Lake Fuqua is the largest of the Duncan Area Lakes, with 18 miles of shoreline and 1,500 surface acres. For visually inclined folks, Lake Fuqua is approximately the size of 1,500 football fields! Speaking of sports, after a day of swimming, check out Duncan's Golf and Tennis Club or the Simmons Center Disc Golf Course to keep the outdoor adventures going.
4. Lake Chickasha – Chickasha, OK | Take the path less traveled to explore Lake Chickasha, a hidden gem of a swimming spot. After a day of swimming, boating, skiing or fishing, head over to Jake's Rib for local flavors and massive portions of barbeque. Pro tip: Lake Chickasha is the site of a Wednesday night fishing tournament during the summer months, be sure to plan your swimming adventure accordingly.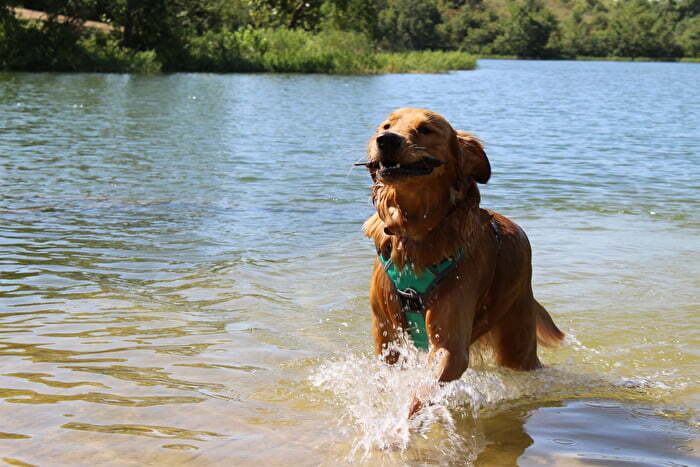 Northeast Region
5. Lake R.C. Longmire – Pauls Valley, OK | Although Lake R.C. Longmire is a popular fishing spot for trophy bass, it's an equally attractive spot to take a dip, thanks to the 15 miles of shoreline and 900 surface acres of crisp, cool water. Fun fact: According to the Oklahoma Department of Wildlife Conservation, Lake R.C. Longmire is a favorite wintering habitat for bald eagles. Many as a dozen eagles call it home.
6. Pauls Valley City Lake – Pauls Valley, OK | When adventure calls, it's only fitting to take your best fur friend along for the ride, or in this case, the swim. The dog-friendly Pauls Valley City Lake is nestled outside Wacker Park, home to Paws Valley Dog Park. Treat your dog to a day at the park and after they burn off excess energy, enjoy some relaxing lakeside float time together.
7. Purcell Lake – Purcell, OK | Purcell Lake is the perfect place to spend your summer, boasting 150 acres of serene, wake-free water, a large sand beach, and even an 18-hole golf course. Whether you're looking for a kayaking spot, family-friendly things to do, or even a quick getaway, you'll love Purcell Lake, located in the "The Heart of Oklahoma." Pro tip: Bring a kayak or paddleboard for an immediate mood boost among picturesque scenery.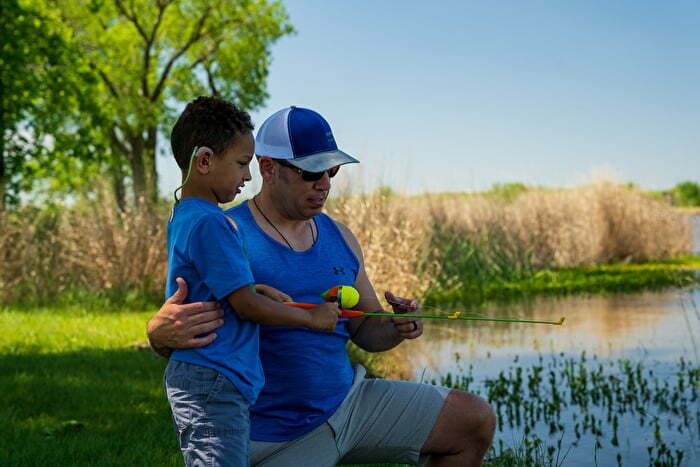 Southwest Region
8. Waurika Lake – Waurika, OK | With 79 miles of shoreline and over 10 thousand acres of surface area, Waurika Lake may be the only lake in the Southwest region, but there's always plenty to see and do. The lake is surrounded by six recreation areas and features a full-service marina, RV campsites with full hookups, over 300 campsites, public restrooms and showers, nature trails and swimming beaches. Be sure to head half a mile north of the Red River Bridge in Waurika to try the famous farm-raised catfish at Bill's Fish House.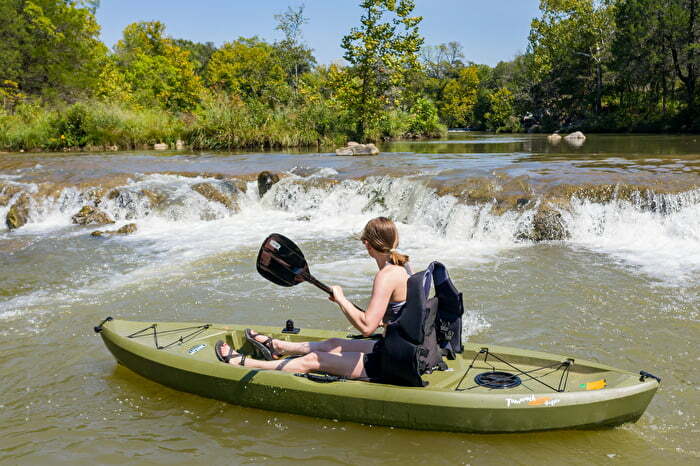 Southeast Region
9. Lake Murray – Ardmore, OK | Lake Murray has everything, including water slides, kayaks, paddleboats, party barges and sunset cruises courtesy of Lake Murray Water Sports and Mini Golf. In just a two-hour car ride from Oklahoma City or Dallas, you'll find exceptional trails, historic sites and 5,700 acres of water, perfect for the whole family.
10. Chickasaw National Recreation Area – Sulphur, OK | Immerse yourself in nature at the Chickasaw National Recreation Area this summer. You'll find plenty of picturesque swim spots, including the Lake of the Arbuckles, Veterans Lake, Travertine Creek, and Rock Creek. The Little Niagara swimming area is a local favorite. There's something about the combination of a beautiful waterfall and cool, rushing waters that make the CNRA a magical getaway.
11. Turner Falls – Davis, OK | Nestled within the Arbuckle Mountains, Turner Falls Park is the oldest park in Oklahoma. A spring-fed creek runs through the park, and a 77-foot waterfall creates a natural swimming pool fit for all ages. After a swim, check out the park from a different vantage point with the 777 Zip. Soar through the sky at speeds of 28 mph and fully experience this unique adventure.
12. Lake Texoma – Kingston, OK | Are you looking for more extreme adventures? Lake Texoma is a 93,000-acre water playground with boating, kayaking, canoeing, swimming and striper bass fishing. Consider Water Wings of Texoma to propel yourself 30 feet in the air with water-powered boots while experiencing zero gravity.
13. Blue River – Tishomingo, OK | Do you prefer a more secluded swimming spot? Blue River in Tishomingo is for you. Known for its azure blue color and over three thousand miles of cool, clear, running water, plan a day at Blue River for ultimate relaxation. Important note: Public access points are limited, and a Blue River Conservation Passport is required for anyone entering the premises. Stop by the Chickasaw Nation Information Center for more information.
14. Pennington Creek – Tishomingo, OK | Stop by Pennington Creek in Tishomingo this summer. The calm waters of Pennington Creek flow over the dam creating a small waterfall and the perfect swimming hole. Bring your kayak and explore the creek, enjoy a picnic in the park or head to Blake Shelton's restaurant, Ole Red, for live music and downhome favorites.
Stay safe while you enjoy the refreshing waters of Chickasaw Country this summer. Remember never to swim alone, always wear safe footwear and wear a life jacket when appropriate.
Jump into your summer adventure and share your photos on social media using the hashtag #VisitChickasaw.