Image
Image
Image
Image
Chickasaw Country's Father's Day Ideas
When you think of unsung heroes, your dad might pop into your head. Maybe he taught you how to swim or ride your first bicycle. He may be your role model for how a father should be with his inspirational words, Mr. Can-Do attitude and sometimes hilariously bad dad joke-telling. He's also someone worth celebrating. That's why we've pulled together the ultimate guide with great ways to celebrate dad this Father's Day.
Golf Excursion
If your pop enjoys going to the greens, there are dozens of golf courses to choose from in Chickasaw Country. In the southern region, WinStar Golf Club is available for a state-of-the-art experience. The two championship 18-hole courses by Weibring-Wolfard Golf Design allow for golfers of all levels to enjoy themselves every day of the year. The amenities at this golf club are second to none. Golf carts are equipped with touchscreen GPS as well as scented face towels and complimentary bottled water. If your father wants to learn more technique from a golf expert or play for the first time, check out the WinStar Golf Academy available on site.
The Lake Murray State Park Golf Course offers an 18-hole, par 72 course with oak trees lining the fairways, minimal water hazards and a breathtaking natural waterfall. An estimated 40,000 rounds are played annually on this beautiful golf course. The state-of-the-art pro shop has natural stone and wood architecture that gives visitors a first glimpse of the course, while the outside patio lets them relax and enjoy the beauty of it.
Further north is one of the top golf courses in the state! The Winter Creek Golf & Country Club is a prestigious golf course and country club located in Blanchard. Designed by internationally renowned golf course architect, Rocky Roquemore, the course features 18 lusciously landscaped holes surrounded by 14 crystal clear lakes. With 7,063 yards of green and a par of 72, the course has been specially tailored to create an exceptional golfing experience for every level of player and is known for having several PGA golfers hit up the greens there!
Lakeview Weekend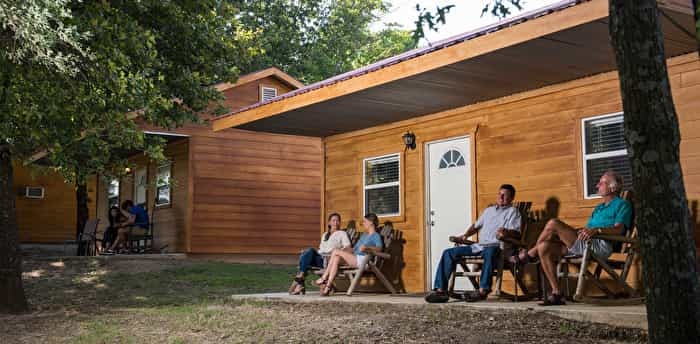 Enjoy some quality time with dad at an area cabin located near one of the beautiful lakes in Chickasaw Country. With 20 different cabins to choose from in Sulphur and Davis, Acorn Vacation Homes offers beautiful homes and cozy cabin rentals in the Arbuckle Mountain area.
Aspen Cabins in Sulphur are located in a very calm and peaceful environment making it a perfect getaway from the hustle and bustle of everyday life! With 150 acres, mostly undisturbed, open land, walking paths, and fishing ponds, any dad will feel a sense of peace here, and they are conveniently located near Turner Falls, Chickasaw National Recreation Area, Chickasaw Cultural Center and Lake of the Arbuckles.
Take the entire family to Lake Murray Lodge. The Lake Murray Lodge includes 32 guest rooms and suites as well as 56 cabins. Many of the cabins are historic structures built in the 1930s by the Civilian Conservation Corps. In addition, there are nine RV campgrounds, and more than 300 RV sites with unlimited tent sites available on the premises for a stay in the great outdoors.
Where To Shop For Dad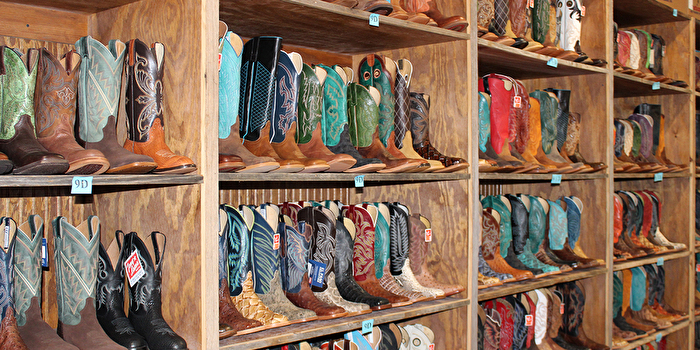 For a true cowboy dad, stop by Brad's Western and Work Wear in Ardmore for a wide selection of men's clothing, boots, belts, hats, work boots, and FR clothing. Brad's offers custom hat shaping for those who like their cowboy hat tailored just to their needs. Another great shop for Western wear is Steppin' Out Western Wear in Pauls Valley. Their retail selection features an extensive variety of quality brand clothing, boots, belts, and tack for horses. Popular brands that customers can expect to find here are Cinch, Justin, Ariat, Red Wing, and Wrangler—to name a few. 
If hiking, trail riding and camping are more of what your dad likes Bromide Mountain Co. in Sulphur is a great store with TONS of options. They have a wide variety of backpacks, outdoor accessories and clothing for guys and gals.
There are also several flea markets and thrift stores in the more than 7,600 square mile region to find dad a one-of-a-kind gift for Father's Day!
Share your Father's Day experience in Chickasaw Country by tagging #VisitChickasaw on social media.